CTech™ FlowVPE® 系统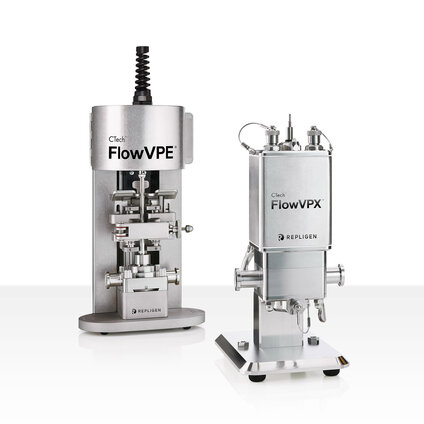 在线工艺监测和控制
The CTech™ FlowVPE® System uses the power of Slope Spectroscopy for online process monitoring and PAT fields. Offering process insights and enabling innovation, the FlowVPE helps accelerate development, reduce risk, and increase process efficiency.
Immediate Data
Immediate data without sending samples to other labs for analysis
Actionable Data
Actionable data to allow for quicker process understanding and design of experiments
Reduce Time
Reduced time needed for process development
Easy transfer
Easy transfer to later stage processes in Pilot or GMP
No More Sampling
No more long, hold steps for A280, which can take up to 8 hours
Multiple Drug Modalities
Proteins, DNA, Vaccines, AAV
When directly integrated into one or more locations of a process stream, the FlowVPE System reveals process characteristics that, until now, have been hidden due to the limitations of the most commonly-used, on-line, fixed-pathlength UV-Vis solutions. 
Capable of making spectral and fixed-point measurements at wavelengths between 190 nm and 1100 nm, at pathlengths between 5 microns and 8 millimeters, the FlowVPE System is adaptable to a wide range of sample types and concentrations. It can support lab scale flow lines of 3 mm, pilot scale flow lines of 10 mm, and manufacturing scale of 22 mm.
The flexibility and robustness of the technology is unparalleled when compared to traditional UV-Vis techniques and equipment.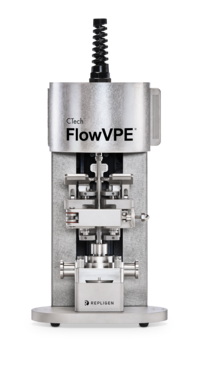 Stainless Steel Construction: Robust stainless head design to withstand process environment
Removable Flow Cells: System comes with two removable Flow Cells of 3 mm and a 10 mm ID (larger sizes available upon request)
Direct Measurement: Concentration measurement at the absorbance max ensures accurate quantification
Low Dead Volume: 
3 mm Flow Cell volume: 0.75 mL
10 mm Flow Cell volume: 10 mL 
22 mm Flow cell volume: 55 mL
Rapid Acquisition: Concentration acquisition every five seconds
Education/Support: On-site installation and training included with system purchase
Linear Range Finder Technology: The system automatically identifies the linear region of section data sets to verify compliance with Beer-Lambert law
Integration Options: The system comes with a 4 mA–20 mA and 0 V–5 V analog output
Dimensions: 
Cary 60: 22" x 8" x 19"
FlowVPE Head: 7" x 8" x 16"
Computer (Dell Latitude Rugged Extreme Laptop, open): 13.5" x 12" x 12"
Weight:
Cary 60: 40 lbs
FlowVPE Head (without Flow Cell): 17 lbs
Flow Cell: 1.5 lbs
Computer (Dell Latitude Rugged Extreme Laptop): 8 lbs
*Spectroscopic Engine: Agilent Cary 60 spectrophotometer
Process Contact Materials: 
EPDM and platinum cured silicone seals
316L stainless steel 
UV grade fused silica
Medical grade epoxy
Polyimide
Teflon seals
Maximum Pathlength: 8.000 mm
Minimum Pathlength Step: 0.005 mm
**Slope Repeatability: ±2%
Proximity to Cary 60: Delivery Fiber optic standard length 3 m (optional 6 m cable available upon request)
Cary 60 Power Requirements: 100V–240 V AC, Frequency 47Hz–63 Hz
FlowVPE Power Requirements: FlowVPE unit contains no power supply (powered via Cary 60)
*Photometric performance characteristics are based upon the Cary 60 spectrophotometer specifications and are applicable to the Cary 60 independent of the CTech FlowVPE System.
**Repeatability performance requires properly validated method and controlled homogeneous samples.
Protein A280
The FlowVPE System's in-line variable pathlength system can provide accurate measurement during the downstream process from 0.1 mg/mL to more than 250 mg/mL for an antibody of EC 1.5. No need to remove samples for testing or disrupt production flow. 
Drug Antibody Ratio (DAR)
The FlowVPE System can be used to measure the DAR value of antibody drug conjugates (ADC) inline. The software allows the system to measure the ratio between the payload and the protein in real time.

Operating System: Windows 10 Compatible 
Software Environment: Agilent Cary WinUV Software Suite Version 5.0/5.1 Through (1042)
VPT Software Control: CTech SoloVPE Software Version 3.1
Required Computer Hardware: Per the minimum requirements of the Agilent Cary WinUV Software Package:
Recommended: 

Min Processor: Intel i5
Min Hard drive: 250 GB (SSD preferred)
Min RAM: 8 GB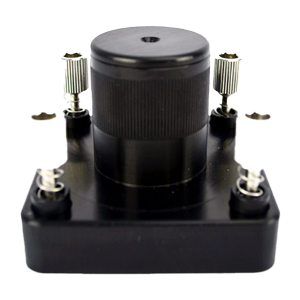 CTech™ Variable Pathlength Technology Consumables
The quality of our Fibrette® Optical Components, sample vessels, instruments, and our service is unmatched.