手术室一次性用品
为了保护患者并满足新兴医疗健康行业的需求,Repligen与制造商合作,成为合同制造组织(CMO),以开发、生产和销售手术室一次性用品,同时直接制造和销售医疗和外科一次性用品。
Full service CMO product development from concept to production
Advancements in minimally invasive surgical procedures and computer-assisted robotic surgery bring opportunities for Repligen to partner with Original Equipment Manufacturers (OEM) of medical and surgical devices manufacturers as a contract manufacturing organization (CMO).
As a CMO for operating room disposables, Repligen gathers input on new or next generation product design and utility, while also gathering feedback on perceived value and likelihood of use. Once engaged to produce a product, we develop a complete production plan, gain budget approval and provide regulatory path support to help ensure a successful product launch, support your brand and future revenue stream.
Since 1980, we have helped customers prototype faster and move to market quickly, collaborating closely from concept and design through finished product production, packaging and fulfillment. Leveraging our broad base of experience helps improve output and reduce costs.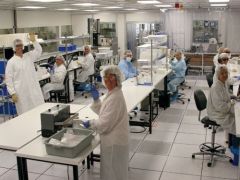 FAST
经验丰富的设计、工程、生产和监管团队可实现快速原型设计和产品发布
高质量生产
ISO 13485:2016 认证设施
医疗器械指令93/42/EEC 认证
FDA批准
OEM operating room disposables
作为小型医疗和外科耗材的原始设备制造商(OEM),Repligen致力于安全、高质量的生产和更短的货期。
Repligen与一些世界领先的医疗用品公司和医疗设备制造商合作,开发和制造了用于各种临床应用的全系列OEM产品。应用包括关节镜、心血管、内窥镜、耳鼻喉科、普通外科、妇科、感染预防、神经外科、整形外科、眼科、骨科、机器人辅助手术、泌尿科以及兽医学和伤口护理。
SINGLE-USE, SAFE, STERILE
所有产品均不含乳胶,可以经EtO灭菌处理后发货
SHORT LEAD TIMES
提供快速、优质的原型部件
多种材料选择 
提供快速原型制作
高质量生产
FDA认证的医疗设备工厂
EN ISO 13485:2016 认证质量管理体系
CE认证产品线
Repligen的全面防护面罩是光学透明、防眩光的聚酯薄膜罩,可确保防溅安全。
使用不含乳胶且经检测的非皮肤敏感性材料
舒适且可调节的加厚泡沫发带
适合佩戴眼镜或护目镜的人 
机器人辅助手术布帘

与Intuitive Surgical Inc.合作开发的布帘,设计用于覆盖第4代 da Vinci® Xi™ 机器人仪器臂,以保持无菌手术区域。该类布帘由一种具有抗静电特性的透明聚乙烯制成,使临床医生的应用更容易,程序之间的转换更快。

经济高效、无菌、一次性使用
快速且简便的应用
透明的低密度聚乙烯
确保牢固贴合的胶条
手术室纱布和手术罩

用抗静电材料制成,可简化临床医生的应用,并在手术之间快速变化,手术室手术布帘可提供无菌完整性,同时降低消毒剂对设备造成损害的风险。设备的布帘和盖罩以无菌或散装非无菌形式提供。可根据要求提供定制设备的布帘和罩子。

Repligen生产各种设备的布帘和罩子,包括OR摄像机和摄像机罩、X射线盒罩、C-Arm成像布帘、超声探头布帘、Neoprobe和蓝牙无线设备罩子、导管套子、带状袋子以及手术室推车套和脚踏板套。
伽马探针布帘
 

术中探针布帘

Repligen生产全系列的术中探针布帘。所有探针布帘均由100 %不含乳胶的柔软抗静电材料制成,这些材料透明,不会妨碍临床医生的视线。通用伽玛探针布帘具有医用级胶带,可将其固定到位。无绳布帘可用于保护无线设备。

可根据要求提供定制的术中探针布帘。

超声波无线探头布帘
无菌布袋

提供30种长度或宽度规格,预卷装供货,易于使用

 

防水布袋

一种减少细菌迁移的无菌防潮屏障。这些 Hy N Dry® 布袋为100%纯棉
 

非无菌散装布袋

包装在易于使用的瓦楞间隔包装盒中,可以在手术室、急诊室和整形外科器械上多次使用。
 

脚跟和肘垫

设计均匀分布压力,以减少压力疮的风险,可用于手术室、康复、运动、疗养院或家庭护理设置

 

简易压缩绷带

在外科手术过程中提供恒定且受控的压缩, 100%不含乳胶, 6种尺寸,含中央供应备用包的无菌包装,无菌或非无菌散装包装

 

标本容器

安全储存外科手术过程中收集的骨骼或组织,容器系统的无菌完整性不会受到破坏。