OPUS® GMP Manufacturing Process
对于大规模 GMP 生产,OPUS® 2.5 - 80R 层析柱在遵从同类最佳 ISO 9001 质量体系的ISO 7级洁净室内装填。

Manufactured in ISO class 7 clean rooms
OPUS 2.5 - 80R Columns are packed in controlled classified clean rooms which meet ISO Class 7 non-viable particulate (NVP) standards. Buffer preparation occurs in a room which meets ISO Class 8 NVP standards.
Repligen在ISO 9001质量管理体系下开发和生产用于生物制药行业的产品。我们专注于及时交付高质量、一致且稳健的产品,以确保我们客户的业务连续性。
每周监测活性和无活性颗粒
在将层析填料添加到层析柱内时,装柱操作过程监测活性污染物
专用于OPUS® 层析柱生产的限制进入区域
例行清洁和消毒时间表
监控房间压差, 100% HEPA过滤空气,以维持空气质量
在所有相关区域张贴要求的更衣程序 
Complete regulatory support file
To support customer filings, the OPUS Columns Regulatory Support File contains the following sections:
产品规格
生产程序
溶出性和析出性
出厂质量
用户指南
材料认证
分析证书示例
产品接触材料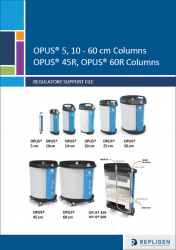 Certificate of analysis for each column configuration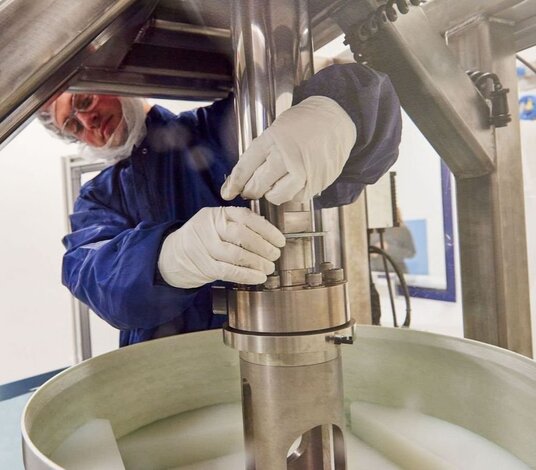 配置选项
In order to provide the most flexibility, OPUS Pre-packed Columns are available for non-GMP and GMP applications. In general, OPUS non-GMP and GMP Columns are identical except as noted in the table.  Resin samples are not provided with OPUS non-GMP Columns. OPUS GMP Columns come with a resin sample for incoming resin identity testing at the end-user's facility. 
证书内容
Manufacturing Pre-GMP
OPUS 2.5 - 80R
Manufacturing GMP Run Ready
OPUS 2.5 - 80R
分析证书
♦
♦
产品编号
♦
♦
批号
♦
♦
序列号
♦
♦
实际层析柱直径
♦
♦
实际柱床高度
♦
♦
填料类型
♦
♦
填料批号
♦
♦
运输/储存缓冲液
♦
♦
装柱日期
♦
♦
不对称性结果
♦
♦
理论塔板数(N/m)结果
♦
♦
ISO 9001 合规声明
♦
♦
产品接触材料合规声明
(无动物源性、EMEA 410 / 01 、USP VI级)
♦
♦
填料分析证书复印件
♦
♦
装柱环境
♦
♦
QC色谱图
♦
♦
层析填料控制声明
 
♦
用于QC分析的填料样品
 
♦
内毒素检测结果 <0.25 Eu/ml (通过/失败)
 
♦
生物负荷检测结果< 10 CFU/ml(通过/失败)
 
♦